ReFunct Media 4.0
Friday, 13.04.2012 20:00
Free Entry (or donate what you like)
Exhibition 14.04.-04.05.2012
Opening Hours
Monday-Saturday 12.00-1800
_______________________________________________________________
"ReFunct Media" is a multimedia installation that (re)uses numerous "obsolete" electronic devices (digital and analogue media players and receivers). These devices are hacked, misused and combined into a large and complex chain of elements. To use an ecological analogy they "interact" in different symbiotic relationships such as mutualism, parasitism and commensalism. Voluntarily complex and unstable, "ReFunct Media" isn't proposing answers to the questions raised by e-waste, planned obsolescence and sustainable design strategies. Rather, as an installation it experiments and explores unchallenged possibilities of 'obsolete' electronic and digital media technologies and our relationship with technologies and consumption.
Following ReFunct Media 1.0 to 3.0, hosted in Ireland (Imoca, RuaRed) and in France (Gaité Lyrique), LEAP presents ReFunct Media 4.0, a collaborative project by Benjamin Gaulon (IE/FR), Niklas Roy (DE), Karl Klomp (NL), Tom Verbruggen (NL) and Gijs Gieskes (NL).
download pdf (about the project)
http://ruared.ie/Documents/defunct_refunct_catalogue_web.pdf

Benjamin Gaulon is a researcher, artist and has a broad experience of acting as art consultant, public and conference speaker and art college lecturer. His work focuses on planned obsolescence, consumerism and disposable society.
He has previously released work under the name "recyclism". He is currently leading Data 2.0 (Dublin Art and Technology Association), he  co-founded the IMOCA (Irish Museum of Contemporary) Art in 2007 and is lecturer at the
National College of Art and Design in Dublin.Since 2005 he has been leading workshops and giving lectures in Europe and US about e-waste and hardware Hacking / Recycling. Workshop participants explore the potential of obsolete
technologies in a creative way and find new strategies for e-waste recycling. His research seeks to establish an inter-disciplinary practice and collaborations by creating bridges between art, science and activism, and by doing so, shifting
the boundaries between art, engineering and sustainable strategy
Niklas Roy, born 1974 in Nurnberg, lives in Berlin since 1999 where he initially served as visual effects supervisor in the film industry and later studies Visual Communication at the University of the arts. Since then he has worked  successfully as a freelance artist.The core of his work ranges from complex mechanics refined over electronics to purely virtual computer code that manifest themselves in objects, installations and performances.
Karl Klomp ('79 - NL) is a media artist, vj and theater technician. His research focuses on live audiovisual expressions and interfacing with a fascination for glitch-art, hyper kinetic audio visuals and glitch grabbing.  He deals with video circuit bending and hardware interfacing out of obsolete video devices. Together with Tom Verbruggen (Toktek) they play live audio-visual performances (toktek vs mnk)
TokTek (aka Tom Verbruggen) is a Dutch artist who designs and deconstructs his own electronic instruments, giving his music a unique character and allowing him to improvise live on stage with the help of a joystick - the
central piece in his live equipment. Behind TokTek stands musician and visual artist Tom Verbruggen, who aside from building his own instruments is an improviser: synths, toys and computer become instruments. His eclectic electronic style has been described as illogical hardware bending, where the outcome creates dramatic live compositions, which break down into delicate and tender sound moments.In one of his incarnations, he performs with VJ MNK (Karl Klomp) - a video artist that hacks/bends video equipment like videomixers
Gijs Gieskes, an educated industrial designer, he now most enjoys re-appropriating tools for new purposes, making inventive hardware projects; such as his Feedback video log, Strobo VJ machine or PCB hand-painted circuit board. His work and live performances are a fantastic example of where hardware hacking can take you.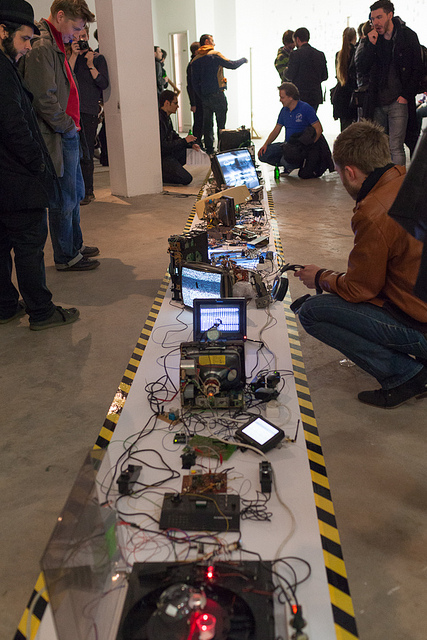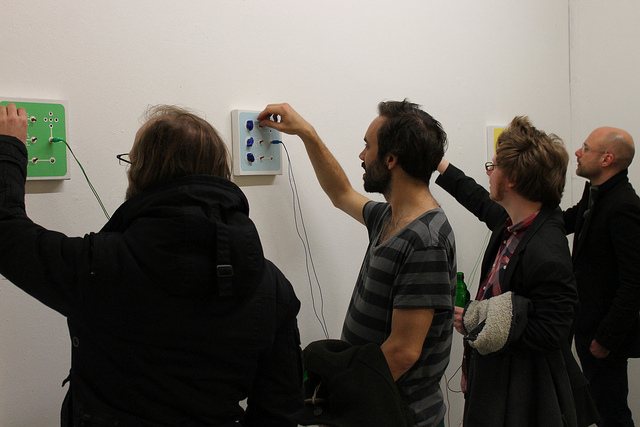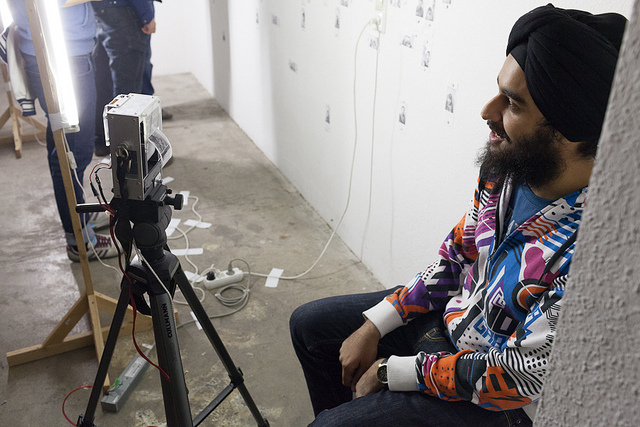 _______________________________________________________________
LEAP
Lab for Electronic Arts and Performance
(Berlin Carré 1. Stock)
Karl-Liebknecht-Str. 13
10178 Berlin
Facebook | how to find LEAP | subscribe to newsletter | info@leapknecht.de