BodyControlled #6 in collaboration with Art Kill Art 04.02.2012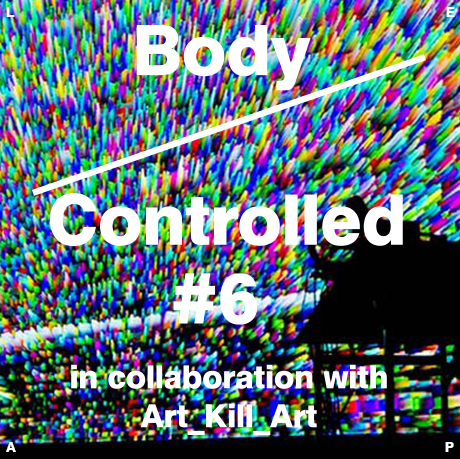 Monday 4.2.2013 at 20:00
LINE UP
// Philip Stearns (US)
// Mario de Vega (MX)
// RYBn (FR)
// Nicolas Maigret (FR)
Due to factors beyond our control we have to move our event "BodyControlled #6 in collaboration with Art Kill Art" to next Monday 4.2.2013 at 20:00.
The rescheduled performance will feature Philip Stearns, Mario de Vega, Nicolas Maigret and rybn.
We apologise for the inconvenience.
Please also note our current exhibition "Abstrakte Welten Realisieren"  is open from 26.1.-3.2. (12:00-20:00)  as part of the reSource 003: P2P Vorspiel presented by transmediale and CTM Festival:
____________________________________________________________
PHILLIP STEARNS (US)
Phillip Stearns creates at the intersection of art, philosophy, and science, drawing upon a variety of disciplines including sound installation, music performance and composition, video, circuit sculpture, photography, and conceptual art. Deconstruction, dissection, and reconfiguration are methods he commonly employs in his hands-on approach to creating works with materials ranging from electronic objects, biological systems, images, light, video, and sound. His process is aimed at revealing hidden macrocosms of potential, new materials for expression, and new paths for inquiries into understanding the state of things. In his work with technology, the machine is understood as the living manifestation of human intentions where the development and application of our technologies, machines and tools reveals our desires and dreams—both conscious and unconscious.
MARIO DE VEGA (MX)
Mario de Vega: Born in Mexico City, 1979. His work overlaps relations between stability, failure, simulation and ambiguity with site-specific interventions, sound events, process-oriented projects, sculpture, modified electronics and sound improvisation. As an improviser, his practice explores the value of fragility & in-determination involving a wide range of customized objects, analog and modified electronics, turntables and computer based interfaces in different combinations. He performs both solo and in collaborations with numerous other musicians exploring the tension between analog and digital media. His work produces acoustic situations for specific spaces using the context to generate ambiguous relations through sound and has appeared in Galleries, Museums, Concert Halls & unconventional spaces throughout Europe, Mexico, United States, Canada, Russia, Korea and Japan.
RYBN.ORG (FR)
RYBN.ORG is an extra-disciplinary artistic research platform, funded in 2000 as a web entity, disseminated into various servers all over the internet and physically present in Paris and Berlin. RYBN.ORG is specialized in the realization of interactive & networked installations, digital/analog visual cross-performances and software art. Their projects refer as well to the codified systems of the artistic representation (painting, architecture, avant-garde, music) as to the socio-politic and physical phenomenons, exploring various fields such as economics and data mass analysis, artificial intelligence and disrupting auto-learning, language and syntaxes, sensory perception and cognitive systems.
NICOLAS MAIGRET (FR)
NICOLAS MAIGRET experiments the capacity of the contemporary technologies to generate specific sound or visual languages. In his realizations, the internal characteristics of the media are revealed through their errors, dysfunctions, borderlines or failure threshold, which he develops sensory and immersive audio visual experiences.
System Introspection : can be envisaged as an observation of the machine by itself, proposing a physical experience of the numeric data. The concert is based on a concrete exploration of the binary code and its intrinsic qualities (structure, logic, rhythm, redundancy, compression) immediately returned in the form of visual and sound flows.
About Artkillart: Since 2007, Artkillart invites artists to explore the technical and material limits of physical media. Through the production and distribution of works, at the intersection of digital art and sound art, the label adopts a radical editorial approach, highlighting the process in an absolute sense, where a dialogue emerges between the digital and the analog.
_____________________________________________________________________
LEAP
Lab for Electronic Arts and Performance
(Berlin Carré 1. floor)
Karl-Liebknecht-Str. 13
10178 Berlin
info@leapknecht.de
www.leapknecht.de
Facebook | Twitter | Flickr | Vimeo Channel | SoundCloud | HOW TO FIND LEAP