Noisefoc Workshop: Build your own synthesizer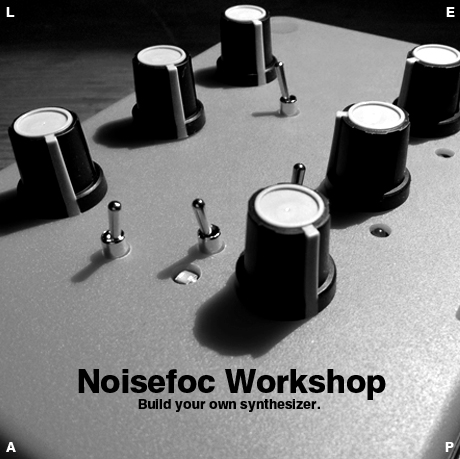 Noisefoc Workshop: Build your own synthesizer
3. September 2012, 17:00-22:00
LEAP presents a DIY workshop by LeafAudio - build your own mini synthesizer from the "Noisefoc" series.
PLEASE REGISTER HERE.
The fee of 45€ (Noisefoc) or 55€ (Noisefoc Deluxe) includes all material and parts except knobs for the potentiometers (Please read the payment information on the registration site).

About the workshop:
The "Noisefoc" has three squarewave-oszillators, which are controlled by knobs and a light sensor. The "Noisefoc Deluxe" has an additional modulation input by that you can control the pitch from external machines.
Please find detailed information about the machines here.
Both machines are sutable for beginners. Soldering experience is nice but not
necessary.
LeafAudio's mini synths "Noisefoc" and "Noisefoc Deluxe" are brilliant for starting to build own equipment. But they are also interesting as sample sources for software musicians. Please also try LeafAudio's free Ableton-Library with Noisefoc sounds.

Requirements:
Please bring your soldering iron. Find some recommendations for low cost soldering equipment here. Alternatively it is possible to rent a soldering iron at LEAP (3 €).
_____________________________________________________________________
LEAP
Lab for Electronic Arts and Performance
(Berlin Carré 1. floor)
Karl-Liebknecht-Str. 13
10178 Berlin
info@leapknecht.de
www.leapknecht.de
Facebook | Twitter | Flickr | Vimeo Channel | SoundCloud | HOW TO FIND LEAP