EUROZENTRIKA: VISUELLE MIGRATIONEN BILDER IN BEWEGUNG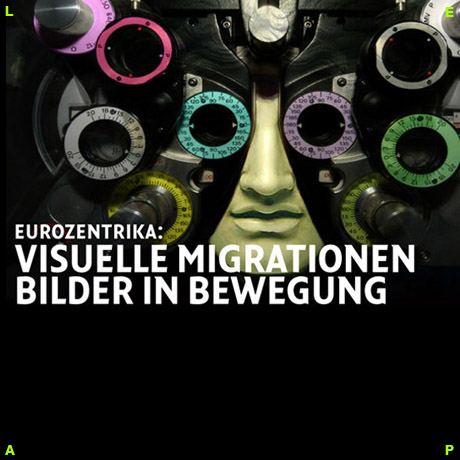 Visual Migrations – Moving Images
Exhibition, Open Platform
Opening 9. July 2011, 19.00
Exhibition 10.–15. July 12.00-18.00
__________________________________________________________________
Else Lasker Schüler's Egyptian male alter ego sketched on the back of an envelope, Bruce Nauman impersonating Duchamp's Fountain, Julian Assange coining Sweden as "the Saudi Arabia of Feminism"- and a rare collection of modern hijabs: For the arts and science magazine "FKW // Zeitschrift für Geschlechterforschung und visuelle Kultur" the interdisciplinary research group EUROZENTRIKA has assembled their research material into a collage of subconscious connections, assumptive associations and strange kinships between past and present notions and representational strategies of Self and Other. The focal point is the critical examination of medial polemics surrounding the concept of, European Identity'.
__________________________________________________________________
The Magazine FKW released its new edition "Visual Migrations – Image Movements through Times, Media, and Cultures". For a joint magazine launch and EUROZENTRIKA work presentation a wide spectrum of culture creators were asked to add open- format contributions to the artistic research presentation. The result of this collaboration, a large-scale spatial installation connecting various perspectives on the topic was revealed at LEAP, with an introductory speech by Prof. Dr. Kerstin Brandes, a performative lecture by EUROZENTRIKA and additional life inputs by invited artists.
__________________________________________________________________
A Finissage celebration took place in conjunction with the launching of ARTCONNECT BERLIN, a networking platform for the creative community in Berlin.
Contributing artists and scholars, among others: Ketuta Alexi-Meskhisvilli, Mika Andersen, Kaya Behkalam, Nele Brönner, Francesca Romana Ciardi, Alexandra Croituru, Mikala Hyldig Dal, Michaela Eichwald, Azin Feizabadi, Baruch Gottlieb, Sophie Hamacher, Myriam Heinzel, Helena Huneke, Linda Hentschel,Melissa Logan, Christina Marie Jespersen, Sophia Martinek,Michaela Melián, Lucia Nimcova, Henrik Olesen, The Oral Syndicate, Tanja Ostojić, dasFlair, Reto Pulfer, Roseline Rannoch, Claudia Reiche,Judith Siegmund, Maya Schweizer, Shingo Yoshida, Vania Rovisco, Susanne Winterling and Moira Zoitl.
__________________________________________________________________
EUROZENTRIKA*
is a young art & theory group reflecting on current theories,discourses, medial and political polemics on the concept of,European Identity'. EUROZENTRIKA is Nele Brönner, Natascha Bohnert,Mikala Hyldig Dal, Mascha Jacobs & Caroline Schubarth.
__________________________________________________________________
FKW*
FKW // Zeitschrift für Geschlechterforschung und visuelle Kultur was founded as FrauenKunstWissenschaft in 1986. FKW is the only magazine on gender studies and visual culture existing in the German speaking countries – germany, Austria, Switzerland. Its six-monthly issues focus on, analyze and intervene in current questions and debates on the politics and theories of the visual and visual media. FKW is co-edited by
Prof. Dr. Kerstin Brandes.
__________________________________________________________________

__________________________________________________________________