Ergodos - INTERVENTION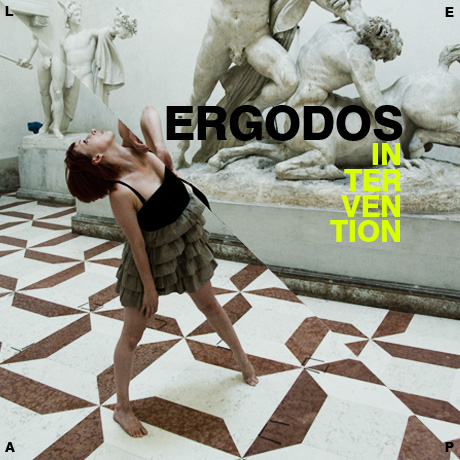 Ergodos - INTERVENTION | November 4th
Opening
Friday 4th November, 20:00
__________________________________________________________________
One does not need to invent, just to intervene (from 'Everything is New', an essay by Irish composer and musicologist Seán Clancy) Our Autumn 2011 edition, 'Intervention', featured two performances across the evening: Dublin-based percussionist-composer Dennis Cassidy, and Berlin/NYC vocal duo Tryst.
We wish to celebrate the creative act of intervening on existing material to create something new and novel. An
inherently performative concept, 'intervention' is perhaps now more than ever a defining metaphor in performance
practice.
Vocal duo Tryst's performance practice represents an intelligent and highly variegated approach to this paradigm.
Drawing inspiration from jazz, contemporary, classical, cabaret and folk performance cultures, Michelle O'Rourke
and Nora Ryan explore and interpret vocal repertoire. This eclectic approach, combined with the singers' rare
chemistry, throws music from the canon into a new, idiosyncratic, unique and beautiful light. Renowned British
tenor John Potter (Hilliard Ensemble, Red Byrd) has described the synergy between O'Rourke and Ryan as
"a magical unison". Featuring a captivating mix of arranged and improvised music, Tryst performs a seamless show that re-imagines, re-invents and re-defines conceptions of the singer's role as interpreter. American art song is placed in the dark atmosphere of Tom Waits, solos by John Cage are lent a new, subtle theatre, and Kurt Weill torch song becomes haunting two-part counterpoint.
O'Rourke and Ryan perform with regular collaborators: composer - drummer Dennis Cassidy, bassist Sean Maynard
Smith. For this performance at the Back Loft, they were joined by Berlin-based Irish composer - guitarist Brian Flynn (Ultrasutra) and Danish choreographer - dancer Silja Thomsen. Their performance featured the European premiere of New York Mad Sweet Pangs through my Belly & Breast by Irish composer Judith Ring. Michelle O'Rourke commissioned this work for Tryst with funds from the Irish Arts Council: the work was premiered in
New York this September.
Regular Tryst collaborator Dennis Cassidy opened the evening with a solo percussion/ electronics set featuring groove-based work created from old vinyl recordings of heart beat defects. Tryst and Dennis Cassidy performed at LEAP with the support of a grant from Culture Ireland.
_________________________________________________________________
The Ergodos Quarterly Edition @ LEAP, Berlin
Dublin-based production company and record label Ergodos and LEAP Berlin were delighted to announce the start of an ongoing collaborative relationship, which will manifest itself primarily in a quarterly "edition" at the Alexanderplatz space. Ergodos will curate a weekend's worth of events four times a year, each one built around a particular theme, and featuring performances, installations and presentations concerned with theoretical aspects of sonic arts practices. Central curatorial concerns include the showcasing of work by a pool of distinctive and exciting Irish composers, sound artists and performers, creative exchange and collaboration with local artists and performers, and accessible and intelligent dialogue around sonic arts practices.
www.ergodos.ie
www.leapknecht.de