Deconstructing Reynold Reynolds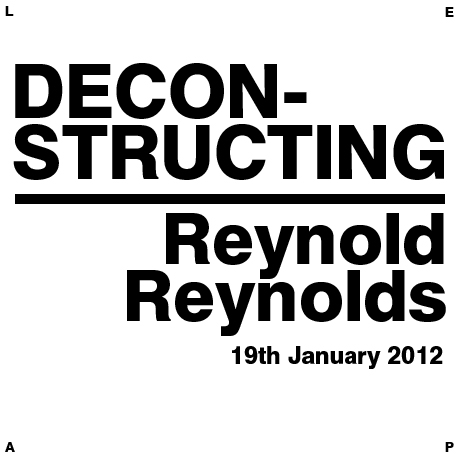 LEAP (Lab for Electronic Arts and Performance) begins 2012 with a monthly presentation and lecture series, featuring primarliy Berlin based video artists.
The artists themselves will not be showing their own work, but curate a two-part programme featuring on the one hand a genealogy of their artistic work, and secondly by presenting the works of young contemporary artists, therby offering a discursive way into their oeuvre.
This method of deconstruction allows the audience to reinterpret the work of the artist by opening a disourse into the various elements which make up their work and influence.
The deconstruction serves as a new beginning and basic framework for the uncovering of  developments and directions in their work, without showing the actual work of the artist.
In addition, non-established artists are given the opportunity to show their work through the curation of the presenting artist.
The series opens with "Deconstructing REYNOLD REYNOLDS" on
January 19th 2012, 20.00.
_____________________________________________________________