Urban Flashes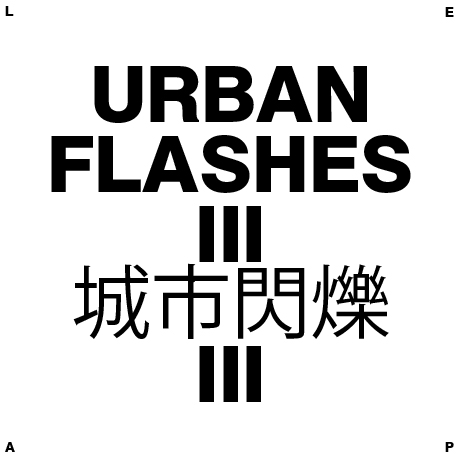 URBAN FLASHES III
城市閃爍 III
FEBRUARY 10–18, 2012
OPENING : 20:00, FEBRUARY 10, 2012
EXHIBITION,11-18 FEBRUARY 12:00-18:00
Join Urban Flashes III via Facebook Event
_____________________________________________________________
IDOLONSTUDIO and LEAP present Urban Flashes III, featuring the works W.A.V.E. by YiLab and Refractive Index by Jamie Allen.
The exhibition will open on February 10 and will be on view until February 18.
The opening will include a live concert by sound artists CHANG Yung-Ta,
YEH Ting-Hao and Jamie Allen beginning at 9.00 pm.
_____________________________________________________________
W.A.V.E. is an installation-performance by SU Wen-Chi's (蘇文琪) and CHANG Yung-Ta (張永達) contemporary dance company YiLab. It examines how we exist and transform in an increasingly complex urban environment-moving from natural to artificial and even alienated spaces, and  from the sensory experience of social spaces to the virtual network.
W.A.V.E. visually maps these changes and invites the public to physically experience them. The work evolves around the solitary existence of a human figure inside a large city-matrix, a virtual, interactive network integrating LED light, sound installation and projections.
_____________________________________________________________
Refractive Index (work in progress) by Jamie Allen launches a multi-city nighttime installation programme for large-scale public digital media displays. In collaboration with London 2012 Creative Programming and the BBC Big Screens programme, and graphics programmers Tom Schofield and David Gauthier, this series of after-dark installation projects for public media facades continues work looking at the way digital media infrastructure changes our view of ourselves. Media systems - particularly as they become increasingly always on and everywhere - are not simply sites of content-delivery. Every pixel we light up, in turn illuminates an environment surrounding it. Screens are dynamic stage-lighting for the pageantry of our cities. Refractive Index treats digital displays as modern-day camera obscura for the digital metropolis. 'What does the screen see?
_____________________________________________________________
Biographies
YiLab (一當代舞團). Founded in 2005 by SU Wen-Chi (蘇文琪). YiLab. is currently working on integrating new technology with performing arts, and seeking to present new performance formats.
SU Wen-Chi
Trained in Taiwan as dancer and afterward in new media art, Wen-Chi has been working between Taiwan and Belgium. Since 2002, she is the core member of the Belgium's Arco Renz / Kobalt Works contemporary dance company, in 2005 she founded YiLab. in Taiwan,  an experimental group for new media performance. Since 2002 Wen-Chi engages in an ongoing discourse that confronts her own artistic and cultural background with her experiences in Europe. Since 2007 her artistic research has shifted to combining dance with new media art, she created a dance installation "Attention Travaux" (2007), multi-media performances "LOOP ME" (2009) "ReMove Me"(2010) and W.A.V.E. (2011).
_____________________________________________________________
CHANG Yung-Ta (張永達), Taipei based sound artist. Born in 1981, Nantou, Taiwan. Graduated from the Taipei National University of the Art, major in digital art. Yung-Ta's works take on a variety of forms such as Audio-Visual, experimental sound, installations and live performances. He composes time-based sculpture with field recording sources and digitally generated noise where the exquisite and violent coexist. In his work he  combines minimal,
ambient complexities, making real-time generate Audio-Visual which synchronized and present the detail, high quality video work collaborating with independent dancers and visual artists. His works have been featured in numerous group shows and festivals throughout Asia, Europe, North and South America.
YEH Ting-Hao
His work focuses on the relationship between media art and sub-cultures, especially in the field of audio-visual performances. Because of his background in digital animation, he is particularly dedicated to performances based on Real Time-Processing.
_____________________________________________________________
Jamie Allen is a Canadian artist currently residing in the UK. With circuitMusic, he uses raw op amp components with minimal effects to experiment and revel in the sound of pure, electric signals. Allen's compositions are streamlined, yet remarkably varied with harsh walls of static, dense drones, and playful rhythms all vying for the listener's headspace.
Jamie Allen's circuitMusic project started as an exercise in radical improvisation – analog oscillators were built from bare circuitry and a breadboard while performing. Since then the live show has turned into a noise-synthesis project where signals from the home-made performance rig are offered to the audience as both audible sound and stroboscopic white light. Light and noise are shaped and into drones and pulses of raw static and electricity.
_____________________________________________________________
Urban Flashes is a four part exhibition series curated by WANG Chun-Chi(王 俊琪). The exhibition series explores the work of four groups of artists who make new media such as light, sound, new technology and installation. Contemporary
artists play freely with materials and forms. They construct laboratories of perception, focusing on human perception and the ability to manipulate and condition it. The artists work with a direct reference to the modern environment and use its artifacts such as strobe lights and spot lights to create light spaces situated between sensual experience and scientific experiment. The spatial and temporal structures are deconstructed by means of projection.
SPONSOR




_____________________________________________________________