ERROR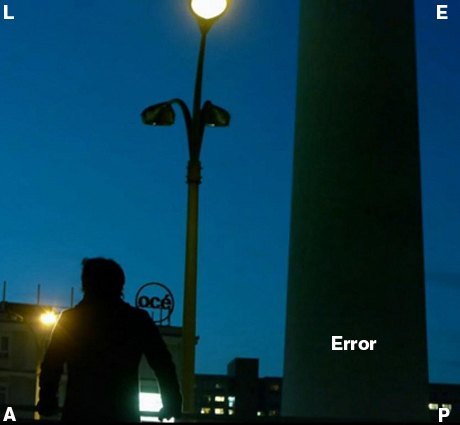 Error by Shingo Yoshida
OPENING : 20:00, FEBRUARY 24, 2012
INSTALLATION, FEBRUARY 24-MARCH 16 18:00-24:00
Join Error via Facebook Event
''Error'' by Shingo Yoshida focuses on a glitch in a streetlamp at Alexanderpatz, the rhythmic flickering appears almost to be staged; This malfunction, those moments when the lights turn off, mark its presence. It paradoxically shows itself only as it suddenly disappears.
Yoshida relates this curious public incident, that occurs night after night just outside his studio, to a silent personal reflection of one's own alienated presence amidst an urban setting, where an overwhelming network of functionality attempts to guide us so that we do not have to grope in the dark.
However, this ultimately shrouds a latent frailty and absurdity that flashes like a pleading morse code, yet goes unnoticed and almost forgotten.  By screening his reaction to this phenomenon on his studio window Yoshida opens up a dialogue between the two objects,the lamp and its representation,  drawing our attention to these frailties.
Shingo Yoshida (born 1974 in Tokyo, Japan) lives and works in Berlin. Recent solo exhibitions include Nowhernow, Ambassade de France au Japon, Tokyo (2010); BABEL Visningsrom for Kunst, Trondheim, Norway (2009). Recent group exhibitions include Voyage Voyage at Maison De L'Amérique Latine (2012) The Rencontres Internationales,Museo Nacional Centro de Arte Reina Sofia, Madrid (2011); Rencontres Internationales, Centre Georges Pompidou, Paris, and Ajustement Geostrophique, Espace Kugler, Geneva (2010).
http://shingoyoshida.com/
http://www.leapknecht.de/