|| COMPUTING THE PHYSICAL ||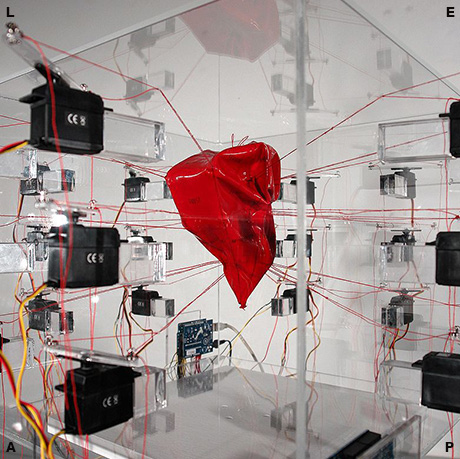 || COMPUTING THE PHYSICAL ||
with works by:
Pablo Garcia
Martin Hesselmeier
Markus Kison
Niklas Roy
Opening: Friday 28.06.2013, 20.00
Exhibition: 29.06.2013 - 06.07.2013
Opening Hours: Tuesday to Saturday, 12-18
Free Entry (donations welcome)
https://www.facebook.com/events/120584324819131/?fref=ts
_____________________________________________________
In the context of kinetic transformation the Digital is seen to be at the center of exploratory research and cultural criticism, in the sense of "expanded animation" (Siegfried Zielinski). Lately it has become more difficult to trace digital aesthetics as the Digital is increasingly fading. Seeing this in the context of Glitch Art, an introverted part of processes are integrated into digital aesthetics. Expanded animation is also an attempt to externalize the Technical: "Imagination and intuition always attempt to cross over and break open the constraining framework of what is determined. Animated objects have souls whenever and wherever this transgression is successful." (Zielinski)
Aspects of these exploratory aesthetics are based on the "expansion of the machine" and thus on the visualization of internal associations. Starting from a basic understanding of animation as "objects awaken," it is a question of the aesthetics of art production, that creates the physically tangible illusions of movements between two-dimensional objects and reality. An object can thus achieve its own energy (life) only when it leaves its two-dimensionality. If it could experience three-dimensionality through organic and technical means, it could also return again to two-dimensionality, yet one that will be visible in the correlations of forces, forms and processes. Where objects are exposed in reality to the influence of technical stimulations, expanded animation reverts back to the concrete (sensory) experience. Two-dimensional animated objects, in contrast are only illustrations of such calculations and do not belong to 'life' or have no actual (technical) parallels to life.
In the transition between dimensions of form and medium, a translation of linearity in dimensionality of space in the room also takes place. Through the use of natural forces such as rotation, weight, pressure, pull, magnetism, reflection, etc., different categories of expanded animation are being presented.
Expanded animation is also the study of images between their digital and analogue expressions as they arise, and how they are perceived. Some of these works are concerned with the tracing and the abstraction of surfaces, where we leave the two-dimensional space of a drawing and come back to the surface through three dimensional representation ("profilograph" by Pablo Garcia, 2008). This transfer has an almost magical effect on the viewer. It is a play on shapes and speed, which as seen in the other works in the exhibition through repetition and fluid representation, brings on a hypnotic effect.
text: Sandra Moskova